Canopi offers a free and confidential mental health support service for social and health care staff in Wales.
We offer various levels of mental health support including:
Self-help resources
Support from Wellbeing Allies
Guided self-help
Virtual and face-to-face therapies with accredited specialists.
Canopi is not an emergency service. If you need help urgently, please click here.
Why are we here?
Canopi (previously known as HHP Wales) provides support to those with mental health and psychological symptoms, including:
Anxiety
Depression
Post-traumatic stress disorder (PTSD)
Alcohol-related issues.
Who can access the service?
Canopi exists as part of a wider network of support services that are available to health and social staff in Wales, including your GP. If you're from elsewhere in the UK, the following services are available in England and Scotland.
However, it is often unhelpful to access support from multiple places at once. If you're already receiving psychological support, we may not accept your referral at this time, and ask you to discuss the reasons you are seeking additional help with your existing provider or GP.
Unfortunately, Canopi is unable to help with financial or legal advice, complaints, mediation, relationship counselling or advocacy.
Your confidentiality matters
Are you worried to tell someone how you feel?
We aim to provide support to those who feel unable to access help from their employer-based services. Read more about our privacy policy.
How it works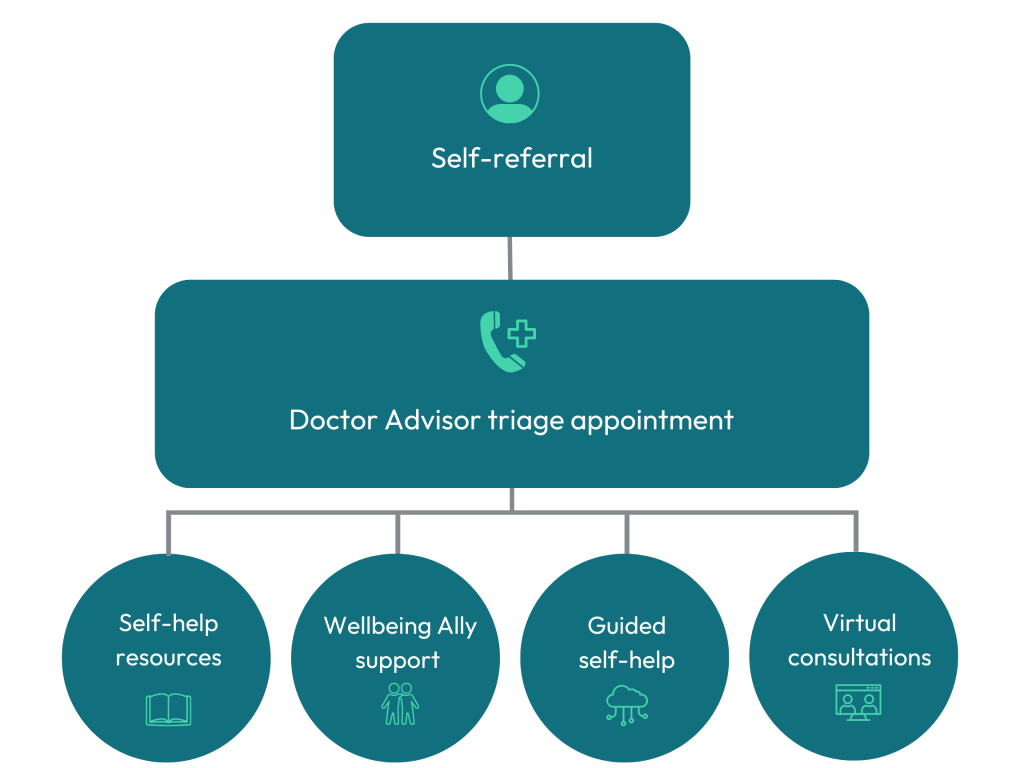 1.) Refer yourself using the online referral form. We will get back to you within one working day.
2.) If eligible, we will arrange for you to have a call from a trained Doctor Advisor (DA), who will seek to understand your needs.
3.) Together, you can decide which of the following support services might be the most helpful:
Self-help resources
In collaboration with other organisations such as Social Care Wales, Health Education and Improvement Wales (HEIW) and NHS English Practitioner Health, we sign-post to a wealth of online, app-based and virtual wellbeing services.
Wellbeing Ally support
Canopi may provide individuals with an experienced colleague, or 'Wellbeing Ally' from health or social care. Wellbeing Allies are trained to listen and create safe spaces for you to share your concerns.
Guided self-help (GSH)
This is an effective, evidence-based psychological treatment that combines regular guidance from a therapist with materials, which you can access at your convenience. This might be:
Silvercloud
Spring
Therapist-Guided Cognitive Behavioural Therapy
Virtual face-to-face consultations
A short course of Cognitive Behavioural Therapy (CBT) with an accredited therapist. Depending on your preference, this can take place online or in person.
What next?